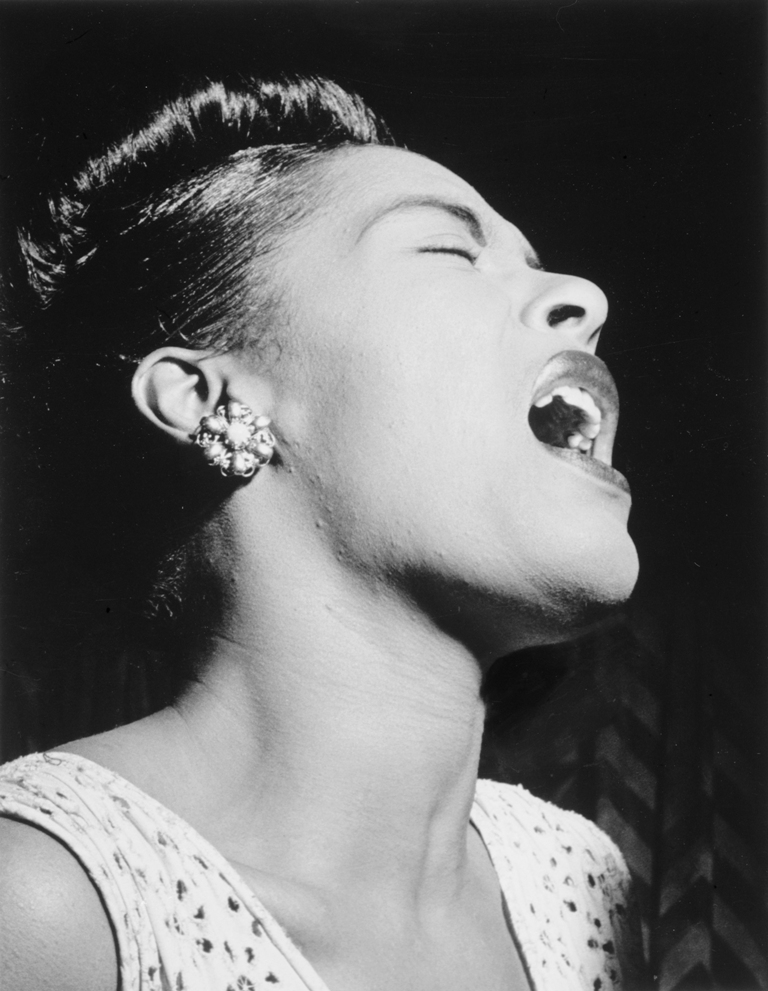 Today marks the 61st anniversary of the death of the most important and influential of all jazz singers, BILLIE HOLIDAY. She died in New York under arrest and handcuffed and in hospital. Harry J. Anslinger of the Federal Bureau of Narcotics, who had been targetting her for some 20 years, placed her under arrest on a charge of illegal possession of narcotics while on what became her death-bed.
Eleanora Fagan, professionally known as Billie Holiday, re-named as Lady Day by her soulmate, tenor saxophonist Lester Young, was born in Philadelphia, Pennsylvania on April 7, 2015. She endured a turbulent childhood but by her late teens she was singing in Harlem's hot spots, where she was discovered by John Hammond, signed to a recording contract with Brunswick in 1935 and went into the recording studio with the finest jazz musicians of the day when only 20 years of age. Those 1930's sides remain to this day some of the most joyous and inspiring of all jazz recordings.
Billie Holiday influenced so many singers it would be impossible to name them all. They include Madeleine Peyroux.
Madeleine Peyroux with her version of the Billie Holiday Classic "Getting Some Fun Out of Life"
Madeleine wrote a touching and insightful piece for our 2015 festival programme about how important Billie is to her, and in doing so defined many of her own vulnerabilities. This is what she wrote:
"I don't think any sound can stop you in your tracks like the sound of Billie Holiday. It's instant immersion, no distractions. When she did it to me, I was a teenage runaway aspiring to be a singer, or just to be somebody. I was struck with her simplicity, her power of suggestion, and a sense that we weren't so different, she and I. Vulnerable and tough, blissful and forlorn, naive and bitter. I dug in deep.
Wherever I looked, I found more and more Billie. Ten volumes on Columbia Records with the small group sessions that would define an era's sound and material. From the late thirties to early forties she recorded every song under the sun with the masters of understatement at her side: Teddy Wilson, Lester Young, Freddie Green, Jo Jones. Each song has an alternate life below the surface, sometimes its best life, in her reading. In 1939 she stood still, bold, and strong, and performed Strange Fruit at every show. She was a force! It unleashed a racist campaign against her that would eventually take her life.
As I grew into singing, I wanted to dig deeper into Billie. I explored her later arrangements with Decca and Verve, and her final masterpiece, Lady in Satin. I had to watch out. With her, you could be swept away on a wild ride through the whole of comedy and tragedy. It was a ride from which, at times, I was afraid I might never return. There is a kind of despair that teens know well, and though I was singing her songs, I faced my own fears and tragedies. My inner demons and their voices overtook hers, and at eighteen I had to stop, to step back and deal with depression. But, as a dark and scary path becomes the path to triumph, I came through and I was given the chance to sing again.
Unbeknownst to me at first, my career would be an hommage to Billie Holiday. By career I mean identity, sisterhood, tenacity and strength. In her company I'd found self-worth, kindness and love. This is not a wild ride from which one wants to return. No! It urges us onward! Pioneer, poet, martyr, woman: Billie, in our ears you are still singing. In our hearts, you live forever."
Madeleine Peyroux
Madeleine Peyroux was born in Athens, Georgia on April 19, 1974. Her parents, who she called hippies and eccentric educators, inspired her interest in music but divorced when she was 13. She moved to France with her mother and began her singing career as a teenager on the streets of Paris.
Check out her album Careless Love. It sold half a million copies and is a classic.