Extracts from Don't Worry 'Bout The Bear by Jim & Ron Simpson which reflect a lifetime of working in what we laughably call the music business.
Today's segment tells the story of how the festival first got off the ground 36 years ago,with a little help from Mitchells & Butlers.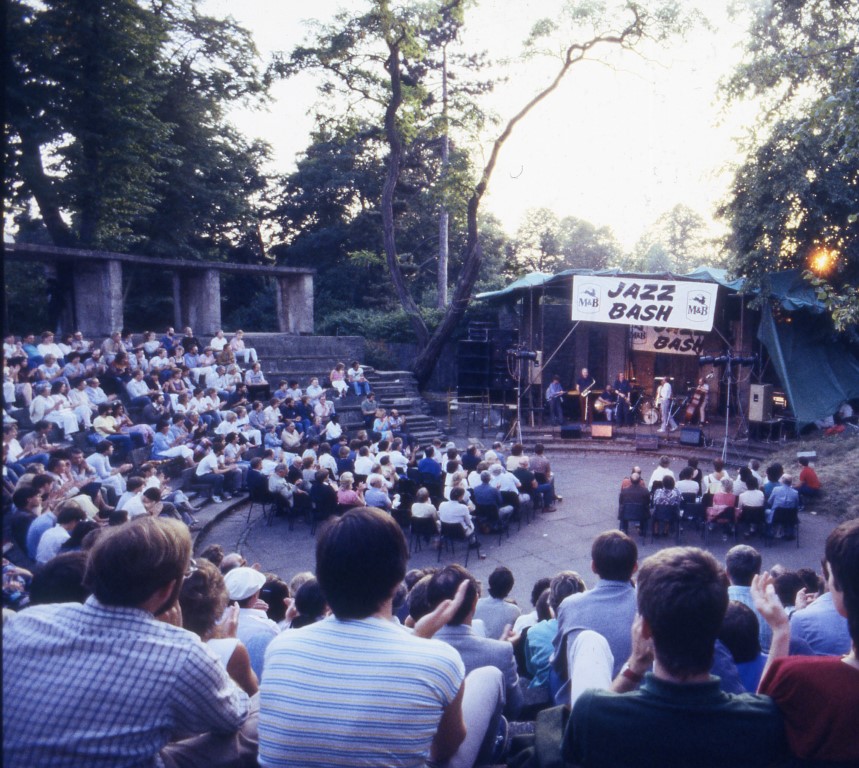 The 1984 M&B Jazz Bash at Cannon Hill Park
Malcolm Powell was a maverick within Mitchells & Butlers. Personally appointed by Chairman Sir Charles Darby, he was given a free hand with the Special Projects budget as long as he delivered – which was pretty much always. I was always amused by the stories Malcolm told about the Ivy Bush pub on the Hagley Road, adjacent to the Big Bear office. Sir Charles lived on the other, posh side of the Hagley Road and apparently, whenever their window cleaner, an Ivy Bush regular, complained to Lady Darby about the toilets or anything else, she had a word with Sir Charles and the problem was always swiftly put to rights.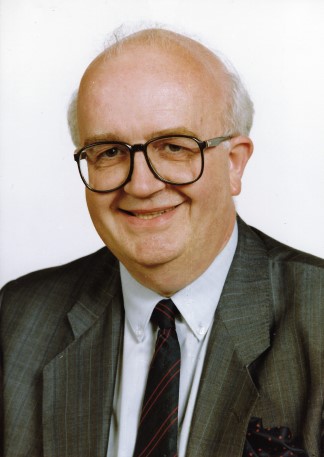 I complained about the state of jazz in this country to Malcolm who asked what I would like to do about it. I told him I would like to put on a major concert in Birmingham, borrowing an idea from Eddie Condon's New York Town Hall show of two all-star front lines alternating over the same rhythm section in an organised jam session. I wanted to use Cannon Hill Park's open-air Arena Theatre and record the whole thing for posterity. Without hesitation Malcolm gave me the go-ahead and I set to work.
Humphrey Lyttelton, my Number 1 choice to lead the operation, bought into it immediately, even before I had finished laying out the plan. Trumpet/cornet ace Digby Fairweather was the obvious choice as leader of the opposing front line and the resultant line-up was just about as all-star as you could get in this country at that time. Humph was to front Roy Crimmins, Dave Shepherd and Dick Morrissey, while Digby led Roy Williams, Randy Colville and Bruce Turner. The rhythm team was Mick Pyne, Jim Douglas, Harvey Weston and Johnny Richardson.
There was a strong representation from the legendary Alex Welsh Band here – no bad thing – as well as present and former members of Humph's own band and Average White Band tenor man Morrissey who was to turn in a stunning performance, so no surprise there.
The concert on August 12th, 1984, was a sell-out, with 860 people enjoying a perfect summer's evening. Malcolm had agreed I could rent Richard Branson's Manor Mobile: no point in bringing in anything but the best for such an illustrious gathering of musicians. When we released The M&B Jam Session Volume One on Big Bear, the reviews were uniformly enthusiastic – why wouldn't they be with such a line-up? – and the album picked up the award of Jazz Album of the Year.
Laying down the principles behind the session, the sleeve notes read, 'The M&B Jam Session was conceived as a positive gesture against the introspective, self-indulgent, over-intricate music that, masquerading as jazz, often threatens to obscure the true spirit of the music. To this end, a galaxy of the most exciting and consummate musicians gathered together in a Birmingham park to demonstrate that masters of their craft are still prepared to take risks, compete with their peers and produce red-blooded swinging jazz that really does move the spirit.'
It was a memorable, exhilarating and inspiring session: the album attests to that. However, it didn't finish at sundown and, in a way, it's not over yet. At the after-party I was approached by Humph and Malcolm with Stephen Carter, manager of the then-new and very swish Holiday Inn off Broad Street. They all thought it would be profligate to let it end there, so why not do a multi-day version the next year, a jazz festival in fact?
Stephen opined that July was a poor month for hotel occupancy in Birmingham, Malcolm could commit a portfolio of appropriate venues and Humph asked me to think what fun I could have, coming up with ideas and booking the best of musicians. There was really not much I could say other than yes, but at least I did have the presence of mind to ask Humphrey Lyttelton to become Festival Patron. 'Of course I will,' he said. 'I see it as a role not unlike that of the Queen Mother.'