Don't Worry 'Bout The Bear: Review by Simon Spillet
An abridged version of the review first published in issue 157 of The Jazz Rag magazine.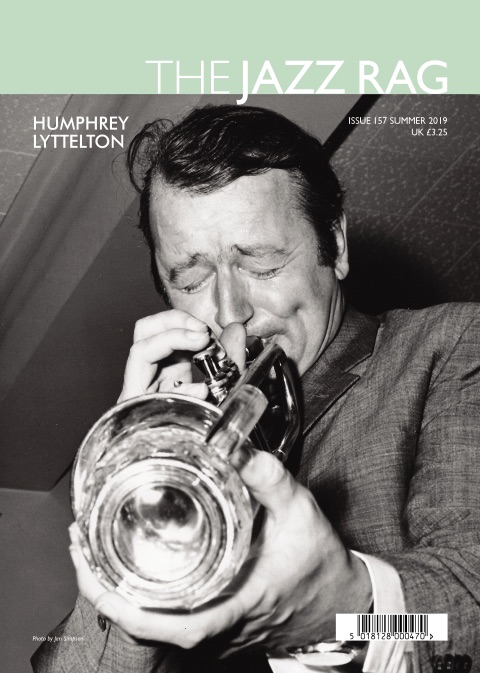 [As] a promoter and manager Simpson has seen it all: corruption, embezzlement (at the highest level; witness the Marbella Jazz Festival fiasco); ineptitude; criminal wiliness; the near physical intervention from fearsome parents of his artists; court cases: injunctions; fist fights; substance abuse and overindulgence; friendships gone sour; broken contracts; no-shows; unpaid bills; careers gone awry; artists gone AWOL; maxed-out credit cards; roller-coasters of hope and disillusion, even mooted death threats. Watching him negotiate and juggle these various vicissitudes, and doing so with unerring good humour, is to witness a master-class in artist management. Just read his no-holds-barred account of King Pleasure and The Biscuit Boys' Russian tour. It's a book in itself.
Simpson's way, as is made apparent in all his dealings documented here, is music first, business later, the very reason why he's made the catalogue of his Big Bear label (started in 1969) such a rich and surprisingly eclectic one, ranging from the bop of Alan Barnes to the blues of Homesick James and beyond.
[…]
'An unusual sort of madness' is how he describes [Big Bear Music's] catalogue.
Not that Simpson ever lets himself off lightly. In fact, one of the aspects that makes this book such a joy to read is that, unlike so many other music memoirs, it is remarkably free of self-aggrandising puff, braggadocio and thinly-veiled promotional bullshit. Even his personal life, which rises to the surface every so often, gets a no-nonsense treatment.
Throughout, the writing is candid – at times shockingly so – occasionally (and justifiably) self-defensive and proud, but never po-faced or dripping in hubris. If Simpson screws up, he says so. If things don't work out, he admits it. And, if something awkward needs to be said, he's unafraid to do so. All skills, I'll wager, that have made him a band manager to die-for. It's also what makes this book such a cracking ride for its reader. No matter who he's appraising, the author says it like he sees it.
As no less a figure than Jasper Carrott says in his Foreword 'Jim drops names like no other', and yet each is integral to his story, not woven in to flesh out a slim narrative or superficially impress. One senses that everyone who appears here – and we're talking everybody from Charlie Watts to Art Blakey – is here for a reason, not merely as window dressing. Though these encounters, Simpson is revealed to have been at the very heart of the music industry, in virtually all its phases, for sixty years, whether that be photographing the good and the great, or promulgating the talented and unknown. He's known them all – from Muddy Waters to Humphrey Lyttelton, from Black Sabbath to the Blues Brothers Band and beyond.
Retrospective though the book is, there's no doubting Simpson's eye is on the future: there's talk of the 2020 Birmingham Jazz Festival, of ongoing plans to mine the Big Bear vault for unheard riches dating back to the late 1960s and of new projects with artists he sees as having enormous potential, like Tipitina. Faith in his own tastes appears a constant, whether it's 1979 or 2019.
Nor has his very evident love for his adopted city of Birmingham ever gone away. Like Simpson himself, it stands proud throughout this book, a central localised motif in a lifetime of international achievement, rivalled only by his on-going love affair with Spain, begun back in those RAF days in the mid-1950s.
All in all, aged 80, Simpson – the self-same bear in the books title, a sobriquet given him by the late John Peel – shows no sign of slowing down.
[…]
In sum, a beautiful book, warm, funny, touching, utterly transparent and illustrated with photographs from the top drawer (many by Simpson himself, as well as by his similarly talented son, Merlin Daleman), this has to be one of the best autobiographical reads out there right now.