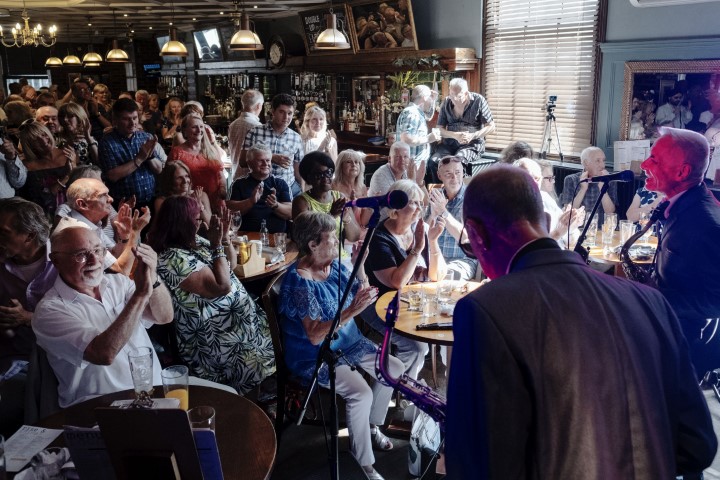 2020 has been a challenging year, with our plans for our usual 200 performance festival in July wiped out by Covid-19. Here at Birmingham, Sandwell & Westside Jazz Festival, we've always prided ourselves on bringing real music, properly played to people in this region without asking an admission price in return.
If you would like to help us secure the future of the festival as we prepare for our 37th edition in 2021, then come on board as a Festival Supporter. Here's what you get in return for your donation:
Less than £10
As well as our undying gratitude, you'll receive a message of thanks with the link to stream and download four previously unheard tracks from Drummin' Man, featuring Val Wiseman, Brian Dee, Bruce Adams, Roy Williams, Alan Barnes, Pascal Micheaux, Len Skeat and Pete York, recorded live at Birmingham Jazz Festival.
£10 or more
As well as an exclusive recording, you can have your name or that of someone you care about listed as a Festival Supporter on our website.
£20 or more
As well as an exclusive recording and your name listed on our website, you'll be specially thanked in the supporters section of our 2021 Souvenir Programme and have a copy posted direct to your door.
£50 or more
As well as an exclusive recording and acknowledgment on both our website and in the printed programme, you and a guest will receive an invitation to the VIP launch of next year's festival on the morning of Friday 16th July 2021
You can also make a donation by phone on 0121 454 7020, or by posting a cheque made payable to Birmingham International Jazz Festival to PO Box 944, Birmingham B16 8UT
And don't forget – you can also support the festival and get yourself something fun to read, listen to or wear from our Virtual Merch Tent: