Friday October 24th at 9.00 pm needs noting in the diaries of all lovers of the best in big band jazz. Rather belatedly BBC Four is screening the late Jeremy Marre's 75-minute documentary, Count Basie: Through his Own Eyes, produced in 2018 in association with Eagle Rock.
Jeremy Marre, who died earlier this year, built a formidable reputation for his music documentaries, beginning with a controversial study of reggae in the 1970s and moving on to Rhythm of Resistance in 1979, filmed in South Africa, which introduced Ladysmith Black Mambazo to the world – and to Paul Simon who used the group to huge effect on his Graceland project.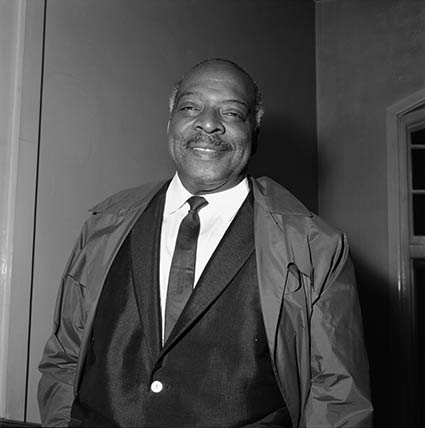 Marre's style was to reduce overt editorial comment to a minimum and let his subjects speak for themselves. Nowhere was this more appropriate than on the Basie documentary where he had access to hitherto unseen home movies and photo albums. These are supplemented by interviews with a superb collection of talking heads, covering Basie's remarkable career from any number of angles. A brief sample includes noted jazz commentators Gary Giddins and Will Friedwald, leader Scotty Barnhart and manager Dee Askew from the current Count Basie Orchestra, and one third of the trio that gave a unique vocal twist to the Count's music, Annie Ross.
Lambert, Hendricks and Ross can also be seen in archive material, alongside such great singers as Ella Fitzgerald, Billie Holiday and Ethel Waters, Basie's first bandleader Bennie Moten, and – rather surprisingly – Princess Margaret.
However, much of the uniqueness of Marre's view of Basie is the way he aligns with the Count's own views, with his words being spoken by Clarke Peters. So, via his own words, photographs and movies, we also learn about his relationships with his wife Catherine, a power in the Civil Right movement, and his disabled daughter Diane to whom he was devoted.